Clogged, leaky gutters can cause serious damage to your home…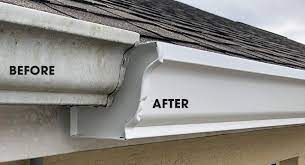 Clogged, leaky, overflowing gutters cause damage to your roof, fascia, soffit and siding. Over time they can damage your foundation and allow water in your basement or crawlspace. Our 6″ seamless gutters are available in 12 factory baked paint options with a 50 year paint warranty. For additional protection against future damage, we offer very reasonably priced gutter guards.
Gutters don't have to be generic…
You can use your gutters to add a pop of color or you can dress them up with water collection boxes, rain chains or custom downspouts. You can incorporate them into your landscape using rain barrels, decorative spouts and splashpads.