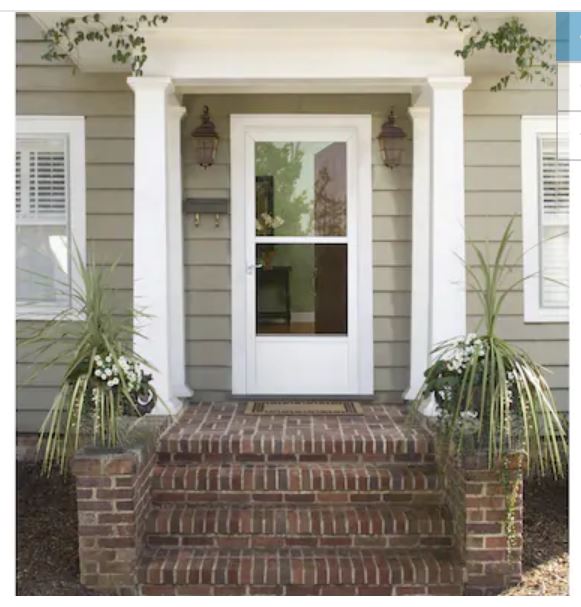 When it comes to the front of your home you always want to pick what's best, how do we know what's best though?
Let's look at the top two options for front door add ons.
Both the screen and storm doors have their benefits when it comes to your home. They each offer not only looks but also protection for your entry door along with the benefits of keeping those pesky insects out! One more bonus feature to these two doors is they also allow sunlight in while still maintaining the security factor. Let's look at each door type and see the benefits, maybe you will find your perfect choice!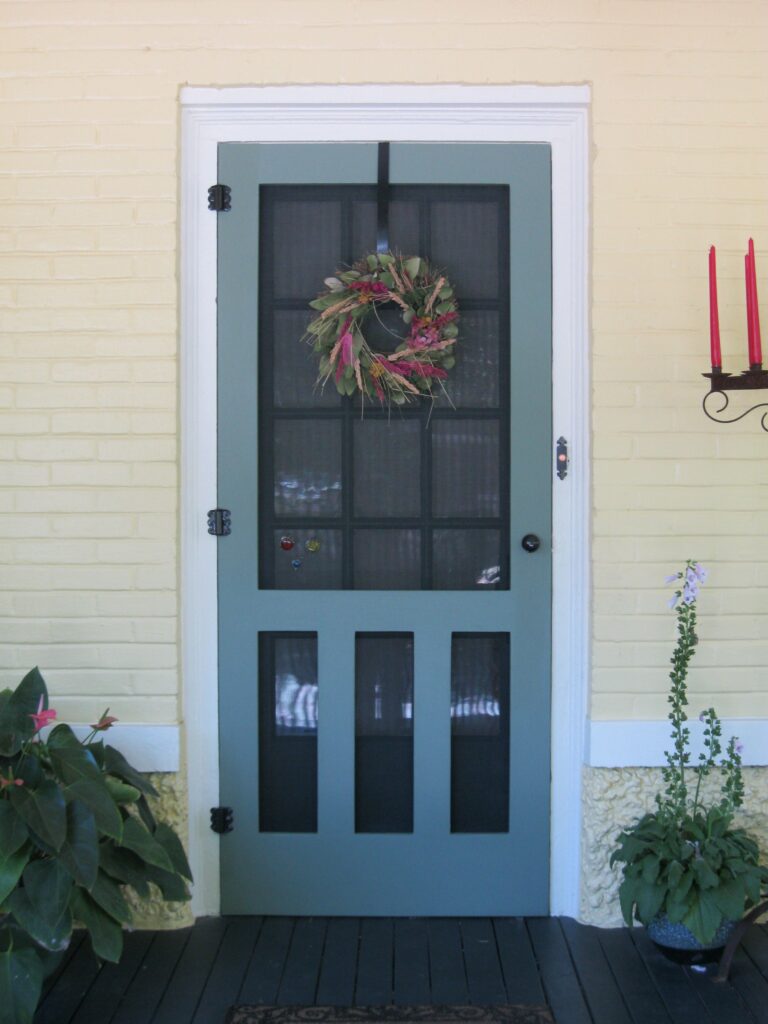 SCREEN DOORS: Easy breezy!
With screen doors, you are able to enjoy the sunlight, weather, and breeze without letting any of those pesky insects in. During summer in the south, this is a key detail since we have mosquitos, those are not fun!
With these doors, you can find them in either wood or aluminum frames and they are generally very simple hardware with hinges and handles. The screen can have a couple of different layouts options such as opening most of the door length or just the top half.
Screen doors are perfect for different areas throughout the home, not just the front door.
People use these types of doors in their screened-in porches or kitchens for quick and easy ventalzation. Entryway screen doors are also great too but since they allow ventilation they don't provide a huge amount of privacy between you and the outside world of the neighborhood.
Now some things to consider when looking at the choice of screen doors: climates/location, animals or children in the home. In hotter climates like here in Tennessee screen doors have a limited time to be used such as early spring and late fall. Leaving these screen doors open to our hot and humid temperatures of summer or random heat waves can send your AC bill soaring! When it comes to animals and small children they like to go in and out or may just be clumsy so this may lead to holes in your screen which is no bueno. If you fall into this category of having animals or small children then you may opt for the solid panel at the bottom of your door with the screen on top.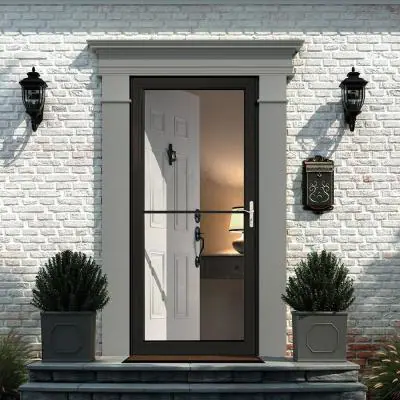 STORM DOORS: Protective yet effective!
This type of door features one or more tempered glass inserts that allow natural light to brighten your home's entryway. The best storm doors are going to come with double or triple panes that include low-emissivity (Low-E) which allows more energy efficiency with keeping out the hot or cold air. These doors are perfect for protection away from harsh sunlight rays, heat, cold, wind, or rain which gives them the perfect name "storm" doors.
When choosing storm doors you have a few options: aluminum, vinyl-clad wood, or steel. Here is where you can get creative, you can choose different layouts for your glass inserts. Fullview, top, middle, and/or bottom sections of glass for your storm door.
Another added bonus of these doors is that they have heavy-duty hardware, unlike the screen doors. hinges, handles, locks, and door closers have to be heavy-duty on these doors to withstand daily use. Some of the storm doors even come with built-in deadbolt security locks for double protection.
One thing to consider with storm doors is if you do have animals at home you can get a doggy or cat door installed for your furry family members to enter and exit as they please.
Another bonus about storm doors is that adding in a new storm door on the front door can increase the value of your home and curb appeal with not much investment for install and materials.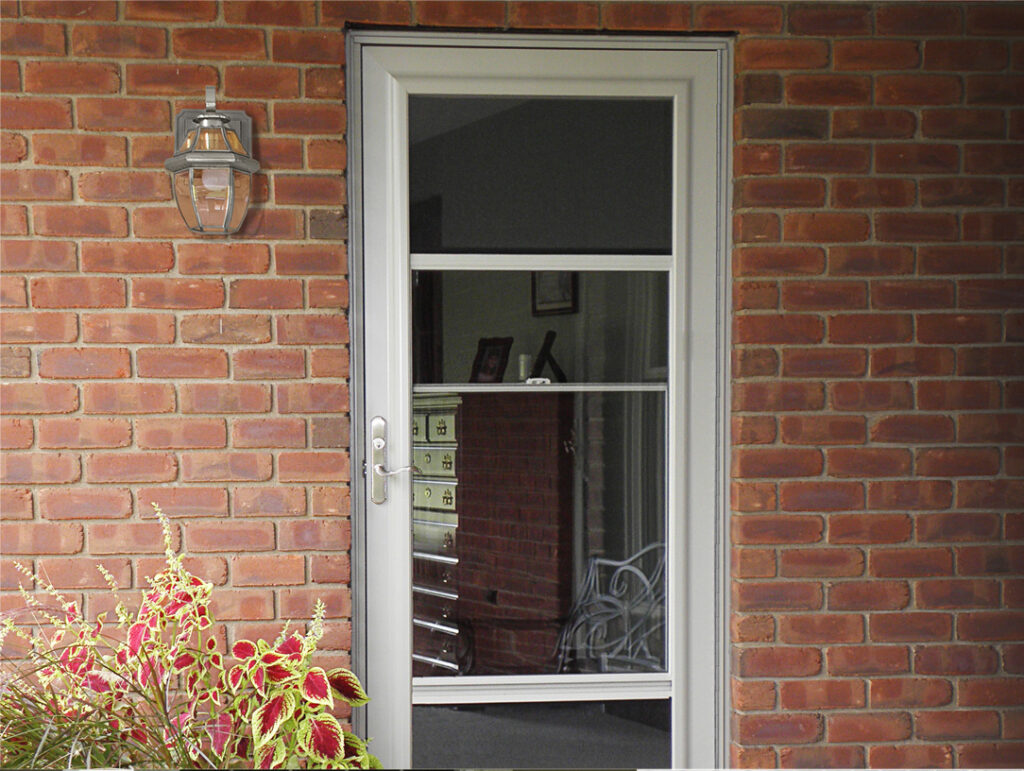 Retractable storm/screen doors: the surprise winner
Now you thought we were done with this competition but we saved the best for last.. the two in one retractable storm/screen door. This door is perfect for protection and ventilation for your entryway. When not in use the screen part of the door is protected within the door. Needing ventilation? just unclick the window at the top section of the door and this allows the upper window to slide down and the retractable screen takes its place for the perfect ventilation for your home.
These retractable storm/screen doors are built with all the strength of the storm door and are available in two layouts, full and mid view options. These doors are perfect if you have small children or animals in the home as well.
After going through all your options when it comes to your front door, Best Choice Restoration would love to help you with all the options for your perfect door and give you a free quote on materials and installation. We are family-owned and operated out of Nashville, TN, and the surrounding areas.
Call us today so we can help you!